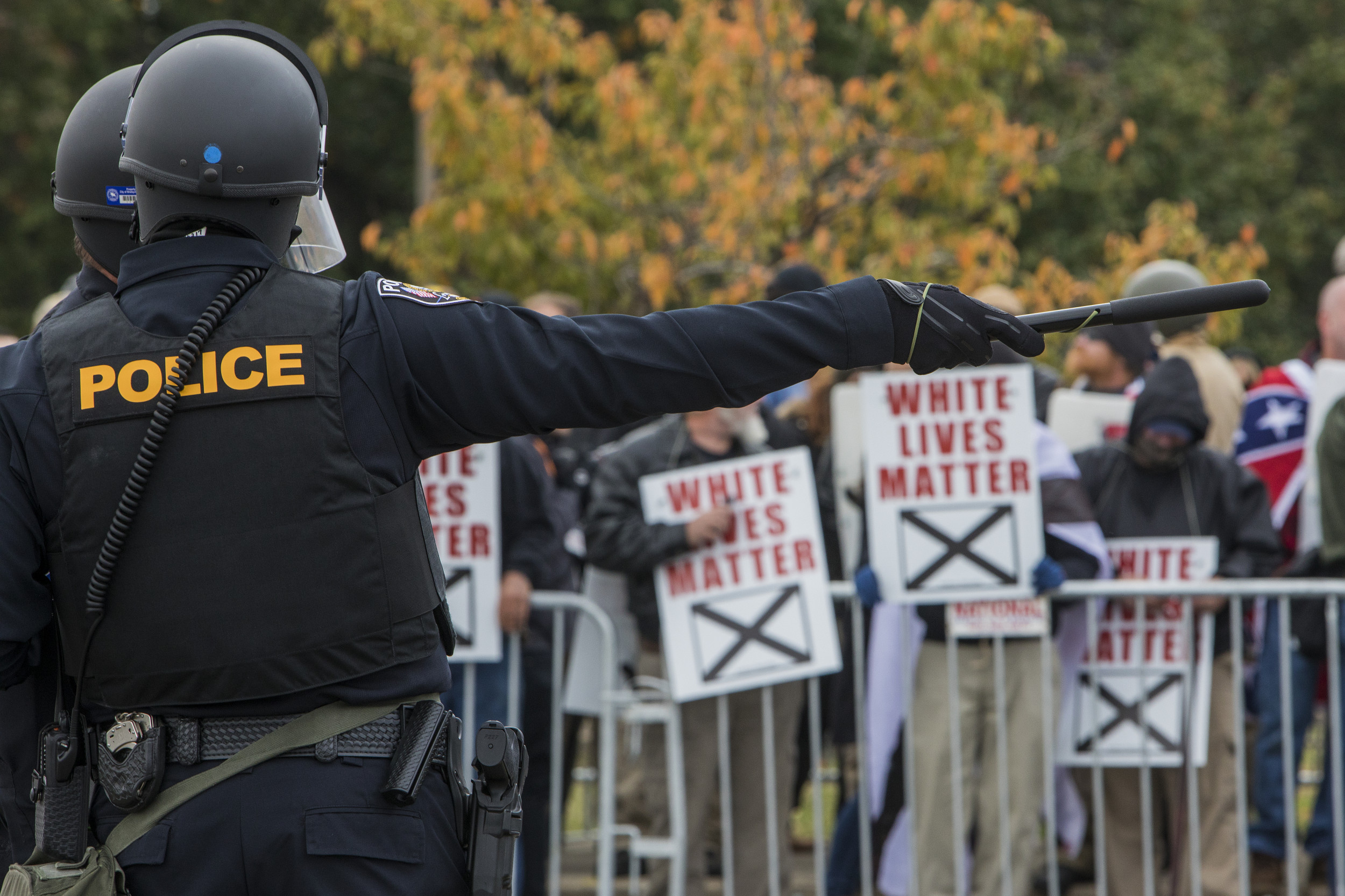 White Lives Matter group protests June 19 celebration in Tennessee
White Lives Matter, a group of white nationalists, staged protests Saturday in Franklin, Tenn., disrupting the city's second annual June 19 celebration.
According to Williamson's homepage, about 10 young white men wore matching white shirts with matching logos and black balaclava face coverings. The men also held up signs reading "Stop replacing white people" and "It's okay to be white".
Juneteenth is celebrated annually on June 19, commemorating an important moment in African-American history when Union soldiers marched into Galveston, Texas in 1865 to control the state and inform remaining slaves that they were free. There were 250,000 slaves in Texas at the time, according to a report by nonprofit The Pew Charitable Trusts.
Meanwhile, the city of Franklin said in a statement Saturday that another group also crashed the Juneteenth festival.
"This afternoon, festival organizers asked two different groups to leave the downtown Franklin Juneteenth Festival," the statement read. "A group carried signs that read things like 'White Lives Matter' and 'Stop White Replacement'."
The Franklin Police Department had no advance information that the groups planned to protest the celebration, a department spokesperson told Williamson's homepage.
"The other group, who said they were there to act as a buffer between festival-goers and the other group, included people with guns and wearing body armor. Both groups left the area when asked. There was no violence and no arrests after Franklin police responded," the city statement added.
Protesters from both groups were also handing out flyers saying they were protesting because "the anti-white system is committed to our spiritual and physical genocide." The flyers were distributed to festival-goers before police arrived, according to local news station WMSV-4.
The group's ideas stem from the "great replacement theory", which is a racist conspiracy that claims white people are replaced by people of color and minorities. The theory is believed to have prompted a string of mass murders in recent years, including the Buffalo, New York, shooting where a white teenager fatally shot 10 black people in a grocery store.
The nonprofit Global Project Against Hate and Extremism explains the theory as a "white supremacist, xenophobic and anti-immigrant concept that posits that white people are being replaced by immigrants, Muslims and other people of color in their so-called "home" country."
"The plot often blames the 'elite' and Jews for orchestrating these demographic changes. The Great Replacement was devised by a Frenchman, Renaud Camus, who popularized the idea in his 2011 book. The Great Replacement", added the association.
On Saturday, a protester handed out a flyer at the festival stating that the group is different from the White Lives Matter group that protested in Shelbyville, Tennessee, in 2017, according to Williamson's homepage.
The White Lives Matter rally in Shelbyville in October 2017 saw high tensions between protesters and counter-protesters, but no violence erupted, CBS News reported at the time. The area where the protests took place had a heavy police presence and only one person was arrested after jumping a barrier, trying to approach the rally.
Although Franklin's protest on Saturday drew outrage from community members, some passers-by in vehicles honked their horns in support of the group, according to Williamson's homepage.
White Lives Matter held marches across the country last year, but some of those rallies were poorly attended or canceled altogether. In some cases they were outnumbered by counter-protesters.
Newsweek contacted the City of Franklin Media Office and the Franklin Police Department for comment.