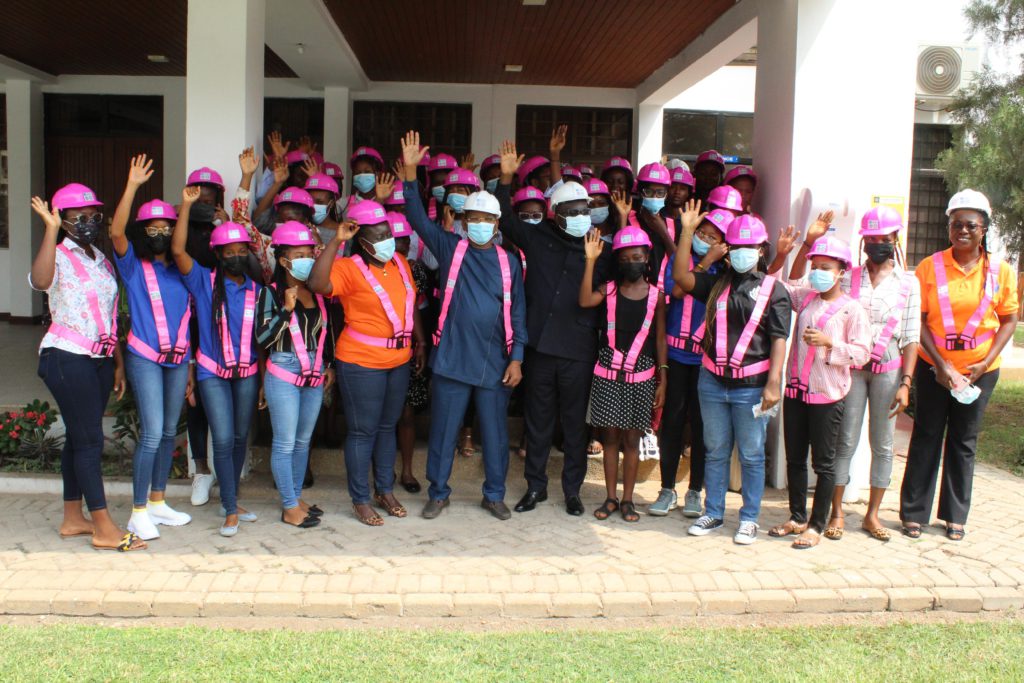 UNESCO, WinE and GhIE organize a career development program for female engineering students in Ghana
The United Nations Educational, Scientific and Cultural Organization (UNESCO), in collaboration with Women-in-Engineering (WinE) and the Ghana Institution of Engineering (GhIE), organized a career development program for female engineering students at the Roman Ridge Engineering Centre, Accra on Thursday 20th January 2022.
Participants included female engineering students from the University of Ghana, Regional Maritime University, Central University, Academic City College, Accra Technical University and University of Mines and of technology. Those who joined via online included Kwame Nkrumah University of Science and Technology (KNUST) and Ashesi University.
Special invitations have been extended to CSIR female engineers led by Dr. Rose Omari, as well as AIMS Ghana's Director of Operations, Adelaide Asante. Guests were also invited. Teacher. Elsie Kauffman of Science and Maths Quiz fame and distinguished members of the engineering fraternity.
In his welcome address, the Executive Director of GhIE, Eng. David Nyante chastised the female students saying, "As female engineering students, your career goals are not just about your profession, it's also about your progress in life, your growth and development in all other aspects of life.
He added that programs like this help students develop the resources they need to advance in their career path. He urged UNESCO to help WinE to extend this program to all GhIE branches in the country.
In her opening speech, the president of WinE, Ing. Dr. Enyonam Kpekpena thanked UNESCO for its support in carrying out this career development programme.
She said the event marks the first in a series of activities planned this year to enable women involved in the study and practice of engineering to break down barriers and advance in their academic and professional pursuits while helping to solve societal problems.
The president of GhIE, Eng. Reverend Charles Adams, who joined the program via zoom from Kumasi, advised the young female engineers to take mentorship very seriously as it prepares them very well for the life and profession they have chosen.
He assured female engineering students that the institution is there to support them with quality engineering professionals to continue to mentor them.
Delivering her message of goodwill to the participants, the President of the Federation of African Engineering Organizations (FAEO), Eng. Carlien Bou-Chedid said his federation has recognized the need for a strong, diverse and inclusive engineering workforce in Africa if we are to grow as a continent.
She added that Africa needs people who understand the problems and offer solutions that work for everyone.
The UNESCO Representative in Ghana, Abdourahamane Diallo, said he was delighted that his team was able to support WinE to organize the program and urged female engineering students to take advantage of the program to bridge the gap in the engineering profession.
He said the call for gender equality in science, technology, engineering and math (STEM) should not be limited to the elite, but should be extended to all girls and women. , especially those with disabilities.