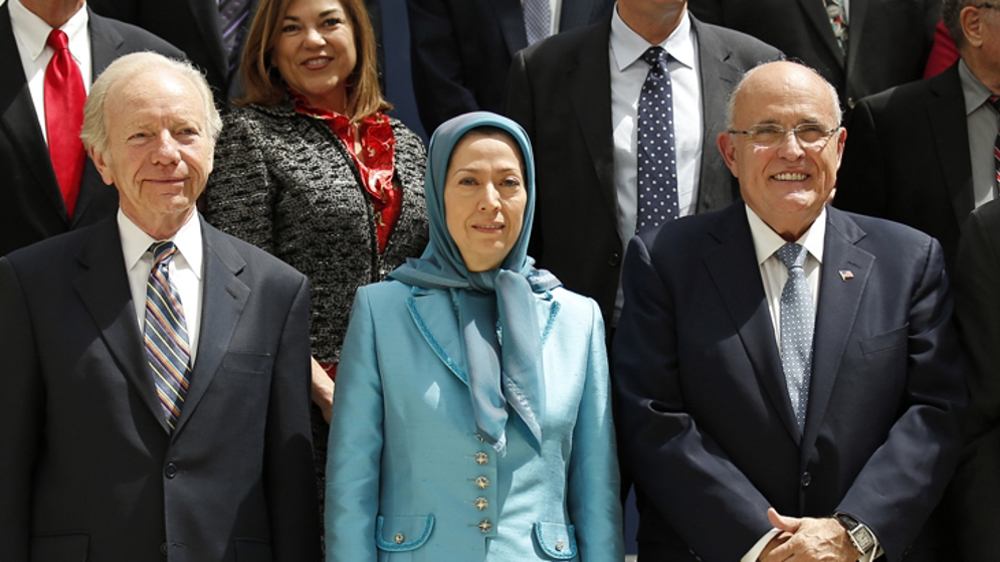 The MKO terrorist group trafficked 400 of its own members to Europe; probably Daesh members too
An Albanian historian and journalist said the country's police alerted the US embassy that members of the so-called Mujahedin-e-Khalq (MKO) organization, an anti-Iranian terrorist cult, were involved in various criminal activities in Europe, including trafficking in human beings. , with possible links to the terrorist group Daesh Takfiri.
Olsi Jazexhi, citing Albanian media, said in a tweet on Thursday that some members of the MKO, led by the leader of the terrorist group, Maryam Rajavi, and based in a camp near the capital, Tirana, tried to traffic more than 400 group members. members in France.
Jazexhi added that a number of members of the terror cult have been arrested for smuggling people from the Middle East to Europe, who were likely Daesh members.
"Good news for Iran, bad news for #FreeIran, #MaryamRajavi terrorists in #Albania. Albanian police alerted @USEmbassyTirana that mujahideen smuggled 400 #mojaheden to #France and likely DAESH members to Europe," wrote the Albanian journalist.
Jazexhi went on to say that some senior members of the MKO were also arrested while trying to smuggle drugs to Italy as the police chased another member for theft.
"#MaryamRajavi's sister-in-law – sister of @Abrichamtchi, head of the #NCR counterterrorism committee – Narges Abrichamtchi has been arrested for smuggling drugs to #Italy. The US, #Israel and the Saudis should crack down on their terrorists in #Albania! France beware! 400 jihadists are in Paris," Jazexhi added.
In another series of tweets later on Thursday, the reporter said in one case that the MKO sect "forced Gazeta Shqiptarja to take their article offline" about their arrests for drug and human trafficking in Albania.
MKO, #MaryamRajavi gang has just forced Gazeta Shqiptarja to take its article about arrests of mojaheden for drug and human trafficking offline in #Albania. My sources tell me that MKO has paid or promises to pay 50,000 EURO for the suppression of the police report. Attach originals pic.twitter.com/tfjnJ0MAlY

— Olsi Jazexhi (@OlsiJ) February 17, 2022
Olsi noted that he has an official document from Tirana Prosecutor's Office, which proves that one of the notorious MKO commanders, named Mohammad Sadat Darbandi, was arrested for robbing a pharmacy in Tirana.
And here is the official document from Tirana Prosecutor's Office where famous MKO commander Mohammad Sadat Darbandi was arrested for robbing a pharmacy in Tirana. I have the complete original indictment in PDF. pic.twitter.com/iXiPy4Uj2x

— Olsi Jazexhi (@OlsiJ) February 17, 2022
The journalist then said that Albanian prosecutors had already filed 100 criminal cases against the MKO for major drug trafficking operations and a link with #Ndrangheta.
Olsi noted that there are also numerous reports that reveal "the links of #MaryamRajavi, the #FreeIran mafia with the Italian mafia".
He added that Albanian opposition newspapers blame the US Embassy in Tirana for providing protection to the criminal MKO cult.
According to an official document seen by the newspaper Albania To go out in December last year, two MKO members, along with Albanian and Greek accomplices, were apprehended for direct involvement in human trafficking.
The documents indicate that the criminal activities took place between 2019 and 2021.
An official source, who asked to remain anonymous, said To go out that the documents claim that information about these crimes was passed on to the US Embassy in Tirana and that the Albanian newspaper contacted the mission for comment, but no formal response was given.
After its founding more than 50 years ago, the MKO launched a campaign of bombings and assassinations in Iran. Of the nearly 17,000 Iranians killed in terrorist attacks over the past four decades, around 12,000 were victims of the group's acts of terror.
The little-known terrorist group is currently based in Albania, where it enjoys freedom of activity after being delisted by the European Union and the United States in 2009 and 2012 respectively.
Regardless of its disrepute in the world, the MKO has organized many big events in recent years, attended by senior US, Israeli and Saudi officials, including former US Senator John McCain, former New York Mayor Rudy Giuliani, the former US national security adviser. John Bolton, former US Senator Joe Lieberman and former director of the Saudi intelligence agency Turki bin Faisal Al Saud.
Ericsson says employees may have bribed Daesh in Iraq
The new revelation comes after previous reports indicated that in addition to the MKO, some major Western companies have also been involved in illegal activities regarding other terrorist groups, which have been widely condemned by the international community for their crimes, including the Daesh terrorist group. .
In one of these cases, the Swedish Ericsson was accused of corruption in Iraq while Daesh was active in this Arab country.
The chief executive of Swedish telecoms giant Ericsson said on Wednesday that some of its employees in Iraq may have bribed Deash members to gain access to certain roads in the country.
"What we see is that people have paid for road transport through areas controlled by terrorist organizations, including the Islamic State (Daesh)," Borje Ekholm told the Swedish financial daily. Dagens Industry.
"With the means at our disposal, we have not been able to determine the final recipients of these payments," he added.
Ekholm made the comments hours after the Swedish company released a statement on Tuesday evening admitting "serious violations of the company's compliance rules and code of business ethics" regarding Ericsson employees, vendors and suppliers in Iraq between 2011 and 2019.
The statement said an internal investigation in 2019 found "evidence of corruption-related misconduct."
Several employees left the company as a result of the investigation, "and several other disciplinary and corrective actions were taken," Ericsson added in the statement.
The company said it chose to release details of the now two-year-old investigation due to "extensive media requests from Swedish and international media".
Ericsson's share price fell more than 12% when trading opened on the Stockholm stock exchange on Wednesday following the news.