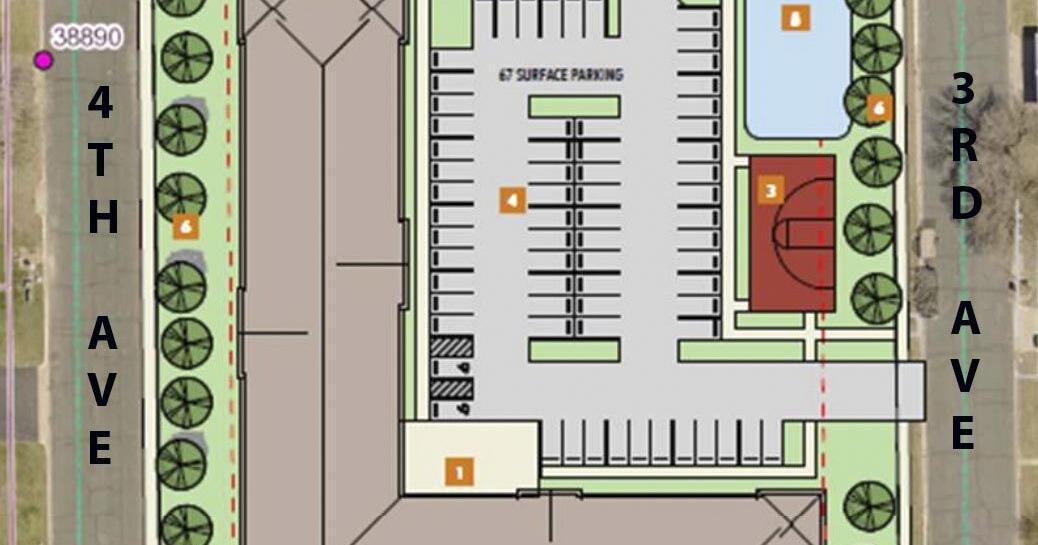 North Branch Affordable Housing Development Eyes Vacant Main Street Land | News
For countless years, the land along Highway 95 just east of downtown North Branch, which once housed the old school building on Main Street, sat vacant. However, if a developer's plans come to fruition, this land could be filled with an affordable three-story apartment complex by the summer of 2024.
At the May 10 North Branch City Council meeting, Paul Keenan, Vice President of Development for Reuter Walton, made a presentation to council regarding his company's thoughts on what could potentially be built on this site.
According to Keenan, the proposed L-shaped complex would consist of 65 units, ranging from one- to four-bedroom apartments. Of these apartments, 18 units are expected to be rented based on 60% of area median income, 43 units are based on 50% AMI and four units will be at 30% AMI.
Keenan said the resort will include a fitness center; community hall; 78 heated underground parking lots and 67 surface parking lots; washers and dryers in unit; and an outdoor sports court, all at no additional cost to tenants. He also said the resort would be managed on-site through Michaels Organization, which he said has a national reputation for property management.
"Since this is such a high-visibility location, it will be extremely important to us that the property looks great," Keenan said.
To that extent, it would have an extensive application process for tenants. In the rental agreement, there would be inspections of the units on an annual basis. Management would take several daily walks around the property, with unattended items being disposed of without notice.
"There is a checklist that they (management) have to go through when they arrive on site and before they leave work for the day when they walk around the common areas of the property," he said. he declares. "What they are looking for are items that affect the image of the property, such as abandoned furniture, personal items left on sidewalks or in hallways, cars that do not have a resident tag or whose tabs have expired.
Additionally, the property would include an abundant amount of trees or other green space to provide a natural screen between the complex and neighboring single-family homes.
Asked about the current staff shortage, Keenan said they were about to open a similar complex in Cambridge so the same management staff could easily split their time between the two sites. This would allow them to offer a higher salary and make the job more attractive.
As for funding the project, Keenan said a purchase contract is already established with the current owner. He said his organization is currently working to complete an application for Minnesota Housing funding and that he will be requesting a letter of support from the city for this application. He also said his group is working with Isanti County on some funding options. However, he does not plan to ask the city for additional direct financial support.
COUNCIL NOT FULLY ON BOARD
While pausing before fully putting the kibosh on the project, the three council members present also didn't give it a ringing endorsement.
Council member Patrick Meacham asked Keenan about any "NIMBY" (not in my backyard) potential of this project. He also wondered what putting affordable housing in an area would have on property values.
"I meet him on the majority of my projects," admitted Keenan. "When it comes to real estate values, there is no evidence that affordable housing has a negative impact on real estate values. In some cases, in really run-down neighborhoods, this can stabilize and even increase real estate values.
"The elements that constantly come up when I propose a project are density problems, traffic problems, parking problems. What we tried to do with this project is to keep it three stories high, have a pitched roof to blend in with the rest of the neighborhood, and then make a big effort to filter it and provide amenities on the spot.
Councilor Kelly Neider was more outspoken in her disapproval of the project.
"We have another place that said the same thing about (on-site management), and they can't find anyone to work there," Neider began.
She then questioned having units that would only be a few feet off Highway 95. "What you have is like 12,000 cars driving Highway 95 a day. And between 2 p.m. and 4:30 p.m., no one will get on the 95 without going through a stop sign. And the same around 7am
"So you're going to have 12,000 cars going through there, and you're going to have, I don't know how many units you're going to have along the 95 drag, but all of these units are going to have 12,000 cars going through every day in their living area," she continued.
"I'm personally not in favor of having a building there, with all due respect," Neider concluded. "I know what you said about not diminishing property values, but I wouldn't want to buy a house across from an apartment complex like this." She added that between now and whenever Keenan comes back before the council for any formal action, she will "do more research and talk to the people who live there".