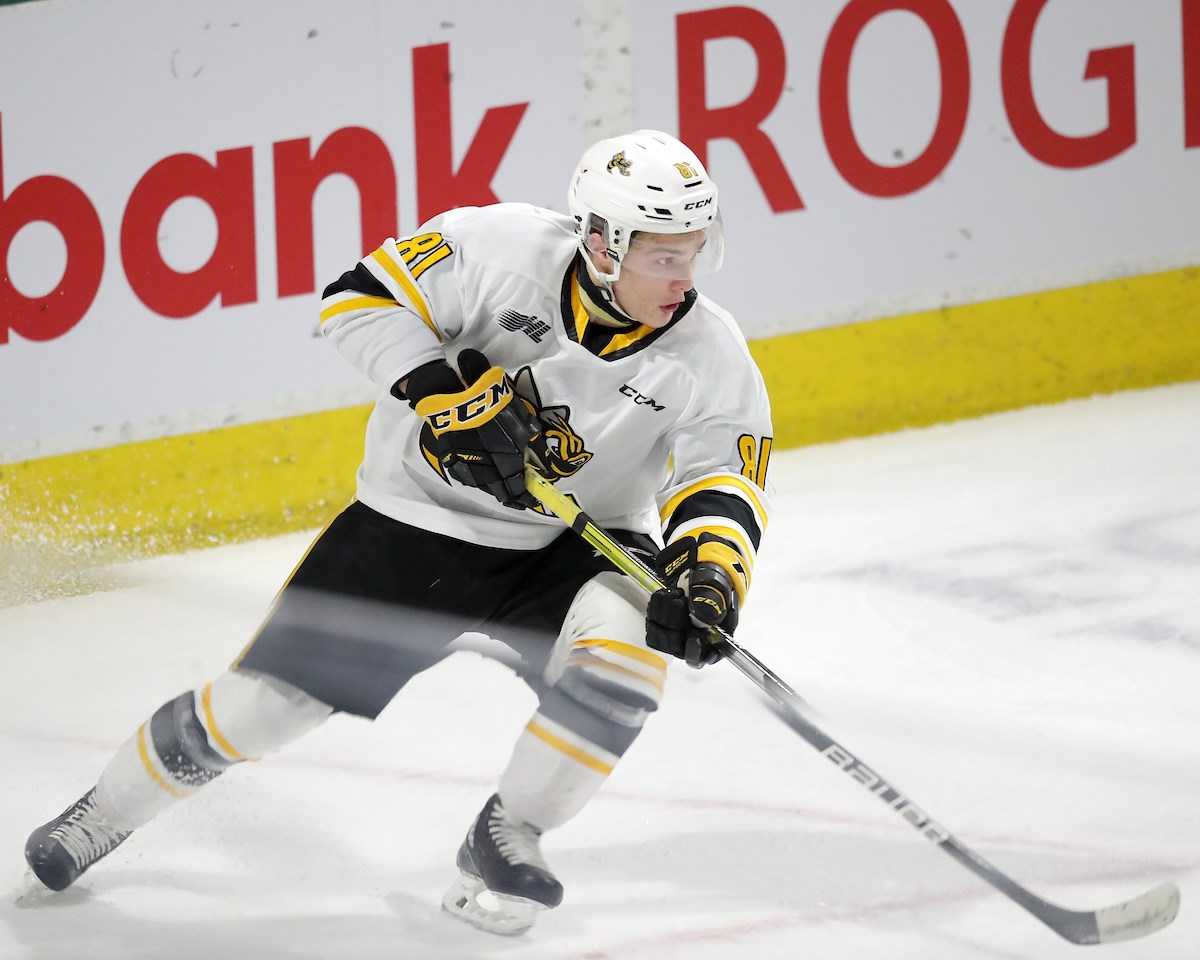 Max Namestnikov among guests at Canucks development camp
Getting to know the undrafted and unsigned forwards at Canucks camp.
The guests are back.
There will be 36 prospects at Vancouver Canucks development camp, which runs Monday through Thursday at UBC this week. That includes five of the Canucks' six 2022 draft picks — Jonathan Lekkerimäki, Elias Pettersson (youngest), Daimon Gardner, Ty Young and Jackson Dorrington — with seventh-round pick Kirill Kudryavtsev not listed.
Alongside the prospects already in the Canucks' system, old and new, will be several players who aren't part of anyone's system. These players have been invited to attend the camp and hope to make enough of an impression on Canucks management to land an NHL contract in the future.
There will be 12 guests at this year's development camp, but that includes five players who have signed AHL contracts with the Abbotsford Canucks. Four of those guests are from the NCAA and are worth watching closely given that Jim Rutherford and Patrik Allvin repeatedly stress the importance of adding to their depth with college free agent signings.
It's a big change from previous years – even before the COVID-19 pandemic limited the ability to bring in outside players, the Canucks had brought a dwindling number of guests, with no guests at their camp. prospect ahead of the 2019-20 season. .
2022 Canucks Development Camp Guests
Attackers
Marc Gatcomb – 22 – Right Winger – University of Connecticut, NCAA

Jack Jensen – 21 – Left Winger – Arizona State, NCAA

Ian Murphy – 23 – Right winger – Princeton, NCAA

Max Namestnikov – 18 – Center – Sarnia Sting, OHL

Tristen Nielsen – 22 – Center – Abbotsford Canucks, AHL

Chase Wouters – 22 – Center – Abbotsford Canucks, AHL
Defense
Jacob Bauer – 20 – Right defense – Western Michigan, NCAA

Alex Kannok Leipert – 21 – Right defense – Abbotsford Canucks, AHL

Chad Nychuk – 21 – Left defense – Brandon Wheat Kings, WHL

Quinn Schmiemann – 20 – Left defense – Kamloops Blazers, WHL
Goalkeepers
Brett Brochu – 19 – Goalie – London Knights, OHL

Samuel Richard – 21 – Goaltender – Rouyn-Noranda Huskies, LHJMQ
These guests are some of the most intriguing players in camp, as each represents the potential of finding an NHL player without spending any assets outside of an entry-level contract.
It's also an opportunity to build a relationship with players who may be worth signing in the future, especially NCAA players who could spend several more years in college hockey. For example, Troy Stecher was invited to camp in 2014 and eventually signed with the Canucks in 2016.
Could one of this year's guests be the next Stecher? Let's take a closer look, starting with the forwards. I will cover defenders and goalkeepers in a future article.
Marc Gatcomb – Right winger
6'2″ – 194 lbs – July 22, 1999 (22)
Woburn, MA, USA
University of Connecticut, NCAA (36-8-13-21)
Marc Gatcomb is a great forward who can play on both wings with a reputation for solid defensive play. He signed a contract with the Abbotsford Canucks at the end of last season, playing six games in the AHL and will be looking to work his way up to the NHL.
Gatcomb had 8 goals and 21 points in 36 games during his senior year, but it was his two-way physical play that got him the most attention. With decent wheels to go with his size, Gatcomb can lay down big hits and is adept at battling along the boards.
It's worth noting that Gatcomb made the bulk of their score at even strength, with only one power-play assist. Gatcomb actually has decent hands and can finish around the net.
Gatcomb failed to earn points in his six-game AHL audition and was eliminated healthy in the playoffs, but will have an opportunity to earn a place in the last six at Abbotsford over the course of the next season.
Jack Jensen – Left winger
6'2″ – 205 lbs – Aug 31, 2000 (21)
Eden Prairie, MIN, USA
Arizona State, NCAA (32-6-8-14)
At the age of 21, Jack Jensen was on the freshman side last season. The towering winger had 6 goals and 14 points in 32 games with the Sun Devils in his first season in the NCAA.
Jensen's combination of size and skating makes him an intriguing prospect despite his limited scoring, with the potential for him to play a role in the final six.
"Jensen is a fantastic all-around skater," reads his Hockey Prospect scouting report from his draft year. "He has great explosiveness from the start and is able to take advantage of defenders almost at will."
Size and speed have been the staple of many forwards in the last six. Jensen was considered a hot prospect heading into his draft year, even representing Team USA at the Ivan Hlinka Under-18 Tournament. Maybe it helped that he played a line with Casey Mittelstadt in high school.
Since then, Jensen has waned as a prospect, but there's always a chance his solid 200-footer game will take him to the next level, especially if he can find a role on special teams.
"His speed is a threat on top of the penalty kill where he can read the play to break up passes and uses his speed to get to loose pucks behind the power play," says Hockey Prospects.
Ian Murphy – Right winger
5'11" – 185 lbs – April 6, 1999 (23)
Braintree, MA, USA
Princeton University, NCAA (25-9-10-19)
Already 23 years old, Ian Murphy will be one of the oldest players in the Canucks' development camp, but he is slowly but surely making progress in the hockey world.
Murphy was teammate with Canucks prospect Jack Rathbone at Dexter Southfield School for two years and retweets of Rathbone's exploits are a regular feature on Murphy's Twitter page, so it's understandable he's interested in the Canucks. . It's what he's done over the past few years that would have made the Canucks interested in him.
A few years ago, Murphy considered getting into Division 3 college hockey because he was unable to attract interest from a Division 1 school. Instead, he delayed his entry into college hockey, instead playing in the USHL for two years and he earned a spot at Princeton University.
Unfortunately, his first season with Princeton was canceled due to the COVID-19 pandemic, but he was one of Princeton's best players last season, scoring 19 points in 25 games, behind only Corey Andonovski, who went on to was signed by the Pittsburgh Penguins. .
Going from not even being on an NCAA team to finishing second on an Ivy League scoring list to attending an NHL camp is quite a journey for Murphy.
"Ian brings elite speed and a high level of skill to our team," said Anthony Noreen, his former USHL head coach. "He was able to score points, help us pick up the pace in games and added character to our organization with the way he carried himself."
Murphy played on both sides of special teams for Princeton, killing penalties with his speed and clever positioning, and playing the power-play bumper. There is a bit of courage in his game and he does not hesitate to plant the net for rebounds.
Who knows – maybe he'll be a Rathbone teammate again someday.
Max Namestnikov – Center
5'8″ – 174 lbs – Feb 6, 2004 (18)
Royal Oak, Michigan, United States
Sarnia Sting, OHL (68-16-24-40)
Unlike most of the other guests, Max Namestnikov was actually in his draft year last season. Namestnikov even landed in the final rankings of NHL Central Scouting, despite being 211th among North American skaters.
The 18-year-old had a solid season on Sarnia's second line in the OHL, scoring 16 goals and 40 points in 68 games. That type of production might have earned him some consideration as a late-round pick if it weren't for his 5'8″ stature.
"He's a player who likes to pass quickly through his opponents and put his teammates in front of the net," FCHockey's Olivia McArter said. "He has quick feet when challenging his opponent, moving his feet with every stick movement to ensure he stays with his man and shows his quick edges while following into the corner."
Namestnikov actually has forward tendencies despite his short stature, not afraid to play the body even on much taller players, using his strength and low leverage to knock down opponents to win battles of washers. He has quick feet and hands, which makes him dangerous in transition and around the net.
Besides his height, the other issue for Namestnikov was a lack of consistency. He could explode with eye-catching offensive effort one night and then disappear for long stretches. It doesn't help that he lost a year of development when the OHL canceled the 2020-21 season.
Namestnikov is the younger brother of veteran NHL forward Vladislav Namestnikov, who is four inches taller than Max. There may be a late growth spurt on the way. Even if he doesn't, Namestnikov could still become a dynamic prospect in the years to come.
Tristen Nielsen – Center
5'10" – 192 lbs – February 23, 2000 (22)
Fort St. John, British Columbia, Canada
Abbotsford Canucks, AHL (41-7-4-11)
Tristen Nielsen still qualifies as a guest even though he has already played for the Abbotsford Canucks for one season, as he only has one contract with the AHL. Still, the players who have already been with the Canucks for a year are a little different from the other guests.
Nielsen played a somewhat limited role for the Canucks last season and was used primarily on the wing despite being a natural center. He has good speed, decent defensive play and can kill penalties, although he hasn't always been used in this role.
"For some reason, despite evidence of good speed, a nose for the net, an ability to kill penalties and a high work rate, Tristen Nielsen struggled to gain trust of Trent Cull to keep a spot in the Abbotsford roster," said Cody Severtson of CanucksArmy.
With his decent hands and accurate shooting, it's possible Nielsen could work his way into a more attacking role in the coming season under new head coach Jeremy Colliton.
Chase Wouters – Center
6'0″ – 194 lbs – Feb 8, 2000 (22)
North Battleford, SK, Canada
Abbotsford Canucks, AHL (60-5-13-18)
Chase Wouters was the first player ever signed by the Abbotsford Canucks and he impressed enough in his first year at Abbotsford to earn a two-year contract extension.
Although Wouters didn't always score in the AHL, he became a trusted defensive presence, a go-to penalty killer, and a fan favorite.
"As the Canucks' KP strongman, Wouters endeared himself to the Abbotsford faithful as a relentless disruptive force along the perimeter," Severtson said. "His work rate earned him the majority vote of the fans for the team's Unsung Hero Award."
With his defensive play, speed and good scoring touch when the opportunity presents itself, Wouters could have an NHL future as a bottom-six forward. It is to be watched.