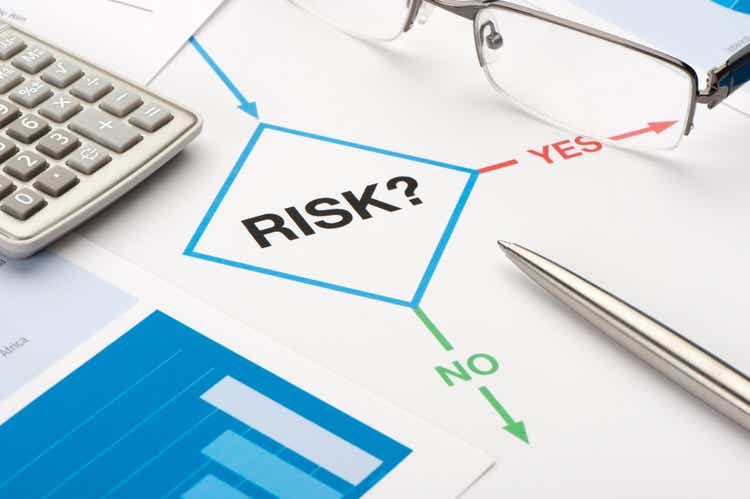 Hub Group: innovative but overvalued business model (NASDAQ: HUBG)
Hub Group, Inc. (NASDAQ:HUBG) launches numerous initiatives to become more efficient and innovative. I also noted profit improvement initiatives, which will likely lead to revenue generation. That being said, I believe the upside potential of the the stock price is not enough to justify a position in the stock. There are many risks, which can lower the stock price. I can try to enter stocks, but not at the current stock price. Keep in mind that I like Hub Group, but I don't like its stock price.
The Mission of the Hub Group
Hub Group, Inc. is a supply chain solutions provider offering transportation and logistics management services. The company provides services such as full, temperature-controlled, dedicated and regional trucking.
Most clients come from the consumer products industry as well as the retail and e-commerce sector. Therefore, a decline in any of these activities can lead to a decline in business revenue.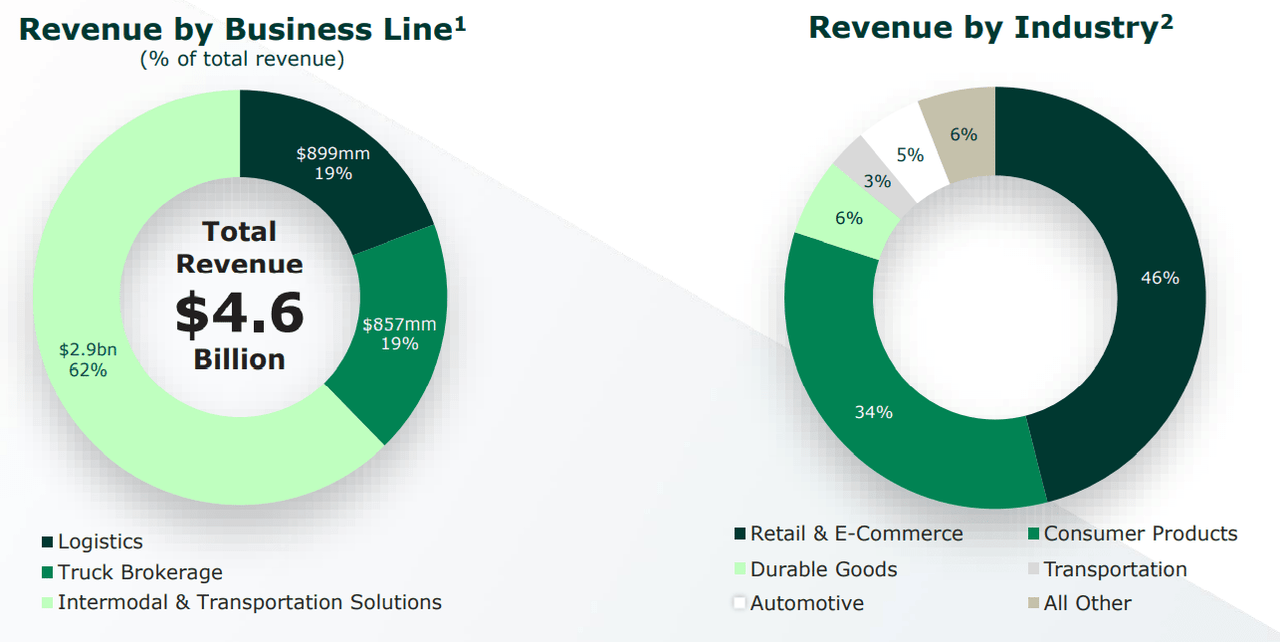 I decided to research Hub Group once I noticed several profit improvement initiatives announced in a recent quarterly report. In my opinion, the most relevant are the efficiencies from sharing equipment and drivers as well as delivering revenue through a new line of business called Intermodal and Transportation Solutions:
As part of our profit improvement initiatives, we have focused on achieving efficiencies between our dedicated trucking and drayage operations, including sharing equipment and drivers, and leveraging a combined function of driver assistance services.

Our dedicated and drayage teams now operate as one combined organization. Accordingly, as of the first quarter of 2022, we are now reporting revenues from these activities within the "Intermodal and Transportation Solutions" business segment. Source: Hub Group, Inc. Reports First Quarter 2022 Results
In addition, management announced new investments in equipment and technology, which will likely improve revenue generation from 2022. Among new equipment, management plans to add more intermodal containers, GPS, tablets for drivers and new software applications.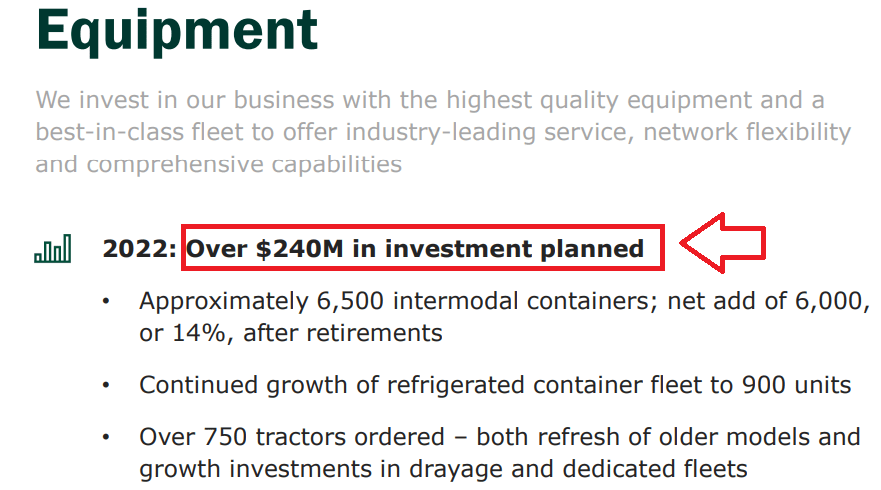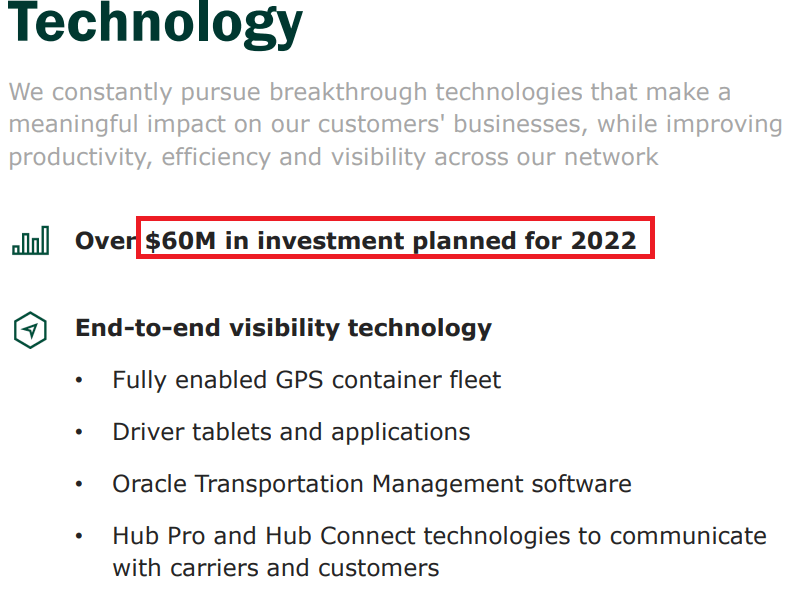 Analysts expect sales growth, positive net income and growing free cash flow
In my opinion, investment analysts are relatively optimistic about HUBG. They expect sales growth to decline in 2023, but sales growth in 2022 is expected to be close to 27%. The EBITDA margin could be close to double digits and the operating margin could reach 8% to 6% from 2022 to 2024.

With this on the income statement, the cash flow statement becomes even more interesting. Estimates for HUBG include FCF/Sales between 4.3% and 3.25%. The capex/sales ratio should also be around 3.6%. Look at analyst numbers because I've based some of my models on estimates given by other financial analysts.

Management is also optimistic about 2022. In a recent presentation, HUBG announced 2022 sales guidance of $5.3-5.5 billion and capital expenditures close to $240-265 million. . I used some of these numbers in my base scenario:
We expect our diluted earnings per share for 2022 to be between $9.00 and $10.00. We estimate revenue will range from $5.3 billion to $5.5 billion and gross margin as a percentage of revenue will range from 15.6% to 16.0%. We estimate that our costs and expenses will be between $420 million and $440 million for the year. We expect our effective tax rate for the year to be 24-25%. We expect capital expenditures for 2022 to be between $240 million and $265 million. Source: Hub Group, Inc. Reports First Quarter 2022 Results
Base case: Investments in technology could result in a stock price of $94
In my baseline scenario, I assumed that investments in technology will successfully improve the company's relationships with customers, drivers, and suppliers. Among recent innovations, in my opinion, new robotic process automation and artificial intelligence will likely improve efficiency and free cash flow generation:
In 2021, we also delivered solutions using computer vision, robotic process automation and artificial intelligence to increase the efficiency of our operations and back-office functions. This included automating manual processes, using human augmentation solutions to enable our experienced supply chain professionals to make critical decisions while allowing a robot to perform repeatable tasks, and the development of robots based on learning to provide better decision support to operating teams. . Source: 10-k
Also, I think a lot of technological innovation will come from acquisitions of innovative competitors. Management has already announced the significant acquisition of Choptank Transport, LLC and NonstopDelivery, LLC:
On October 19, 2021, we acquired 100% of the interests in Choptank Transport, LLC. The acquisition added scale to our truck brokerage operations, enhanced our refrigerated trucking service offering and complemented our growing fleet of refrigerated intermodal containers.

On December 9, 2020, we acquired NonstopDelivery, LLC. NSD provides last mile residential delivery services across the United States. The financial results of NSD, since the date of acquisition, are included in our logistics business segment. Source: 10-k
Finally, in this case, I expect that HUBG will probably increase its energy-efficient transport solutions, as promised by management. As a result, the business might receive more attention from investors, which might lead to a lower cost of capital. HUBG reported on these initiatives in the last annual report.
Our service offering facilitates our customers' desires for energy-efficient transportation solutions and helps them achieve their goals of reducing their environmental footprint. Our intermodal service is much more fuel efficient than trucking, and we are continually looking for opportunities to convert our customers' transportation needs from trucking to intermodal. Additionally, our logistics offering includes shipment consolidation and network optimization services that aim to maximize the amount of freight moved per mile, which reduces fuel consumption. Source: 10-k
Given conservative assumptions, I used sales growth of around -4% and 7% and an EBITDA margin of 9% to 11%. The results include a 2026 EBIAT of $384 million.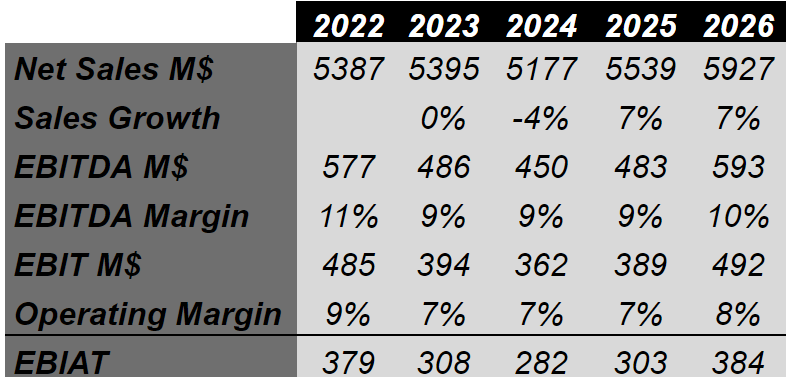 My model also included free cash flow close to $206 million in 2023 and $272 million in 2026. If I use a 7% discount like other analysts, the implied equity is $3.26 billion and the fair price would be $94 per share. The internal rate of return would even reach 8%.

Worst case scenario: the stock price could fall to $47 per share
HUBG depends on rail services to operate, and often there aren't many options. This means that management does not have much bargaining power when negotiating agreements. As a result, the business could experience increased transportation costs, which could affect HUBG's EBITDA margin:
We are dependent on major North American railroads for virtually all of the intermodal services we provide. In many areas, rail service is limited to one or a few railroads. We primarily rely on contractual relationships with two railroads to support our intermodal business.

Rate increases result in higher intermodal transportation costs, reducing the attractiveness of intermodal transportation relative to trucking or other modes of transportation, which could result in lower demand for our services. Source: 10-k
In my worst-case scenario, I think labor shortages, slowdowns, or shutdowns may be likely. The results would include lower sales growth and lower free cash flow, which could drive down HUBG's stock valuation:
Our business has occasionally been affected by situations affecting one or more railroads, including labor shortages, slowdowns or stoppages, adverse weather conditions, changes in railroad operations or other factors that hamper the ability of the railways to provide reliable transportation services and these situations may recur in the future. Source: 10-k
In very traumatic circumstances, I used -458% sales growth in 2023 and -15% in 2024. I also included an EBITDA margin of 10%, which implied a close 2026 EBIAT of $150 million.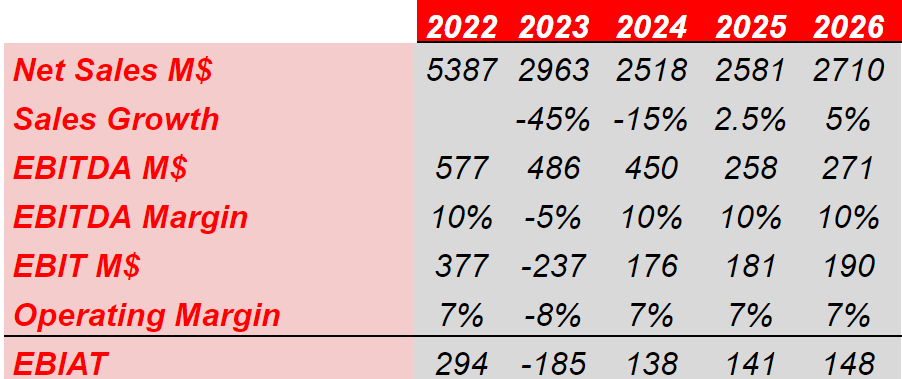 Now, with a 15% discount, a 5x exit multiple and nearly 35 million shares outstanding, the fair price would be around $50 per share. The resulting internal rate of return would be -8%.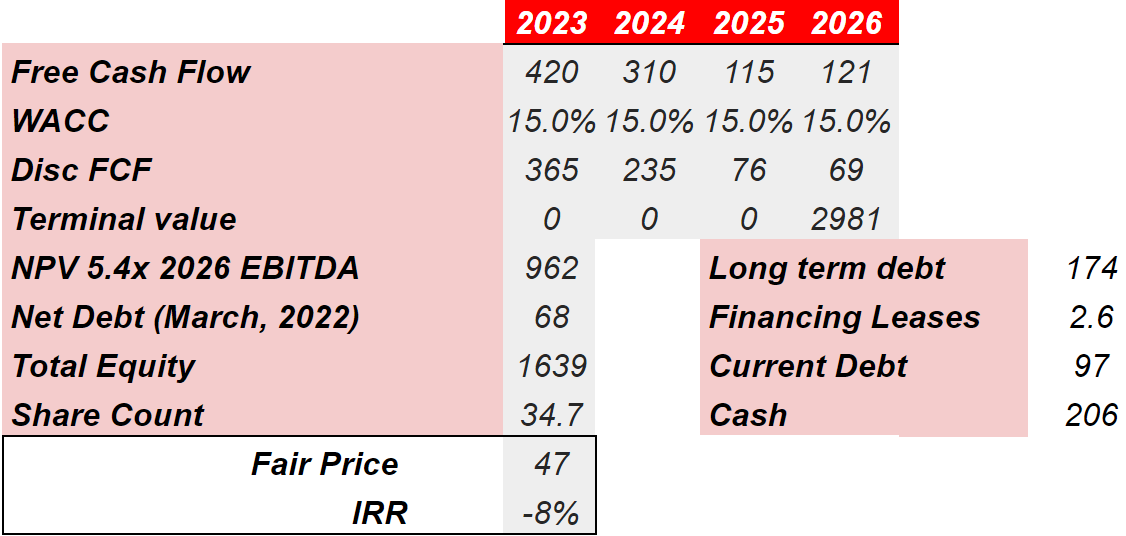 Balance sheet
As of March 31, 2022, Cash and cash equivalents were equal to $206 million and the asset/liability ratio is greater than 1x. I think HUBG's balance sheet would allow for a number of new acquisitions.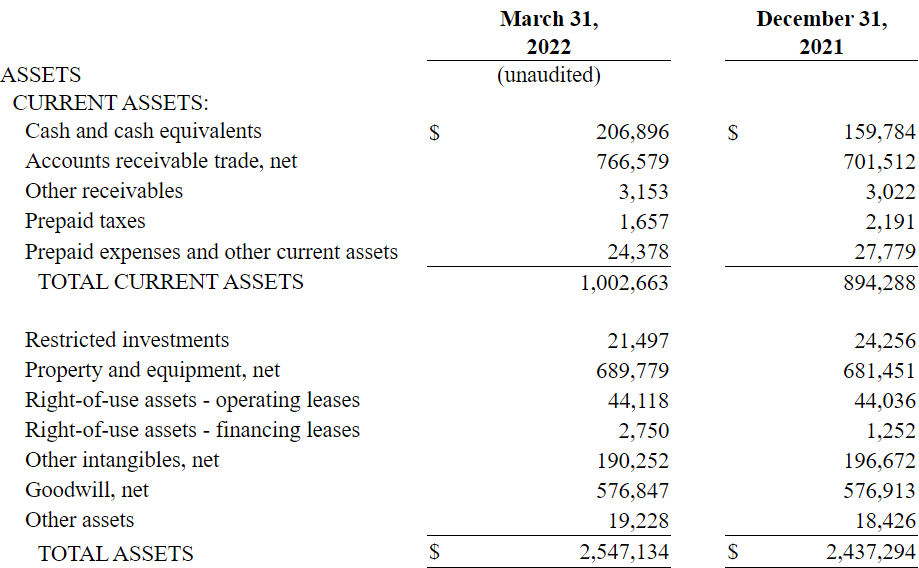 With long-term debt of $174 million and a current portion of long-term debt of $97 million, the total amount of debt is nothing to worry about.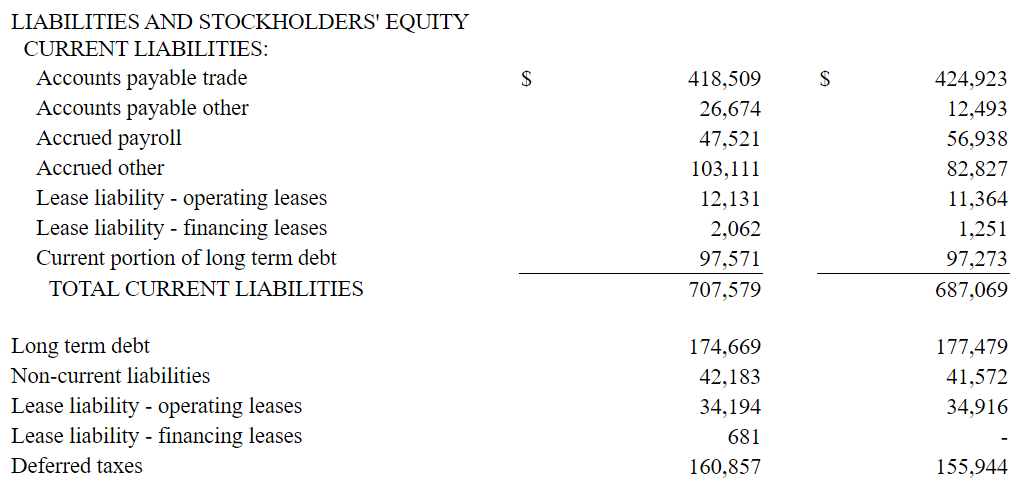 My takeaways: The right price is not far from the current stock price
Management undertakes many initiatives to improve efficiency and technological innovation. I think the company is well managed. With that, the current valuation is not that far off from what I believe is the right price. In addition, certain risks could justify a drop in the share price. In sum, I think upside potential and downside risk are somewhat symmetrical. I will wait to see if I can grab some stock at a bit lower price, not at the current price. Keep in mind that this is a company that I will follow closely.