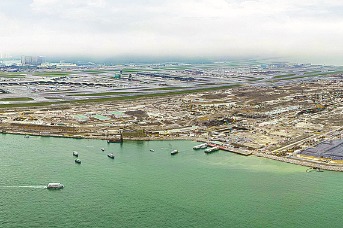 HK integrates into national development
Greater Bay Area, tech hub plans, young people key in effort
Since returning to the motherland 25 years ago, Hong Kong has experienced robust growth linked to national development, and integration continues to deepen, a boon for the city as it seeks to play a bigger role in the scene. international.
The central government has adopted policies conducive to the economic and social development of Hong Kong over the past quarter century. Under the "one country, two systems" policy, Hong Kong and the mainland entered into the Closer Economic Partnership Agreement in 2003, which offers preferential measures to Hong Kong investors seeking to explore the mainland market.
Over the past decade, the central government has launched a series of national strategies involving Hong Kong, including the 14th National Five-Year Plan (2021-25), cross-border financial product connections, the Guangdong-Hong Kong Greater Bay Area -Macau development project and policies that make life more convenient for Hong Kong residents living on the mainland.
The GBA, which covers nine cities in Guangdong Province as well as the special administrative regions of Hong Kong and Macao, is a bridge facilitating Hong Kong's integration into national development.
Important cross-border infrastructure, including the Hong Kong-Zhuhai-Macao Bridge and the Guangzhou-Hong Kong High-Speed ​​Railway, have been built to create a solid foundation for closer cooperation.
The Hong Kong SAR government has also launched programs to boost work, investment and new business creation across the border, such as the Greater Bay Area Youth Employment Scheme and the Northern Metropolis Development Strategy.
John Lee Ka-chiu, the sixth Chief Executive of the Hong Kong SAR, also mentioned in his election manifesto that Hong Kong will embrace a future with "unlimited possibilities" if it can "seize these opportunities and capitalize on of our unique strengths and advantages to create new poles of economic growth and integrate into national development".
New roles
Hong Kong has been included in the overall national development framework since the 11th Five-Year Plan (2006-10). The 14th Five-Year Plan devoted an entire chapter to strategies for strengthening and improving Hong Kong's competitive advantages.
He proposed eight "hubs" for Hong Kong in the areas of finance, commerce, shipping, aviation, legal settlement and litigation, innovation, intellectual property trade and exchanges. artistic and cultural.
In finance, trade and transport, Hong Kong is widely recognized as one of the world's major hubs and has also become the world's largest offshore renminbi business hub, handling 75% of global payments. in offshore RMB.
While the plan reinforces Hong Kong's advantages, it also supports emerging sectors to encourage diversified development. For example, the current national five-year plan maintains that Hong Kong will become an international center of innovation and technology for the first time.
"We have arrived at prime time," said Alfred Sit Wing-hang, secretary for innovation and technology in the fifth Hong Kong SAR government.
Sit said the government has allocated an unprecedented investment of HK$150 billion ($19.1 billion) over the past five years to promote the development of technological innovation and entrepreneurship.
In late 2015, the HKSAR government established the Office of Innovation and Technology with the aim of making Hong Kong a knowledge-based economy and a hub of technological innovation in the region. The department was expanded, becoming the Office of Innovation, Technology and Industry under the Sixth Government.
The number of startups in the city has quadrupled, from around 1,000 in 2014 to over 4,000 this year. The number of people employed in the sector has also increased from 2,400 to 12,000, while the total value of venture capital funds has increased from HK$1.1 billion in 2014 to HK$40 billion a year. last.
The 14th Five-Year Plan also emphasized life and health industries, in response to which Hong Kong established an InnoLife Healthtech Hub at the Hong Kong-Shenzhen Innovation and Technology Park, a technology cooperation zone between two cities.
With innovation and creativity flourishing, efforts to keep Hong Kong's copyright regimes strong and up-to-date in order to meet the high demand for intellectual property protection and transform the city into a regional hub of intellectual property trade have become an urgent task, something that is also proposed in the current five-year plan.
David Wong Fuk-law, director of intellectual property in the HKSAR government, said that through intellectual property trade, Hong Kong can play a role in dual circulation, which relies on the domestic market as the mainstay while by allowing domestic and foreign markets to stimulate each other. other.
Wong said Hong Kong has all the ingredients to be a regional hub for intellectual property trade: a strong and independent legal system, a developed service industry and a large pool of intellectual property professionals and specialists.
According to the World Intellectual Property Organization, Hong Kong currently ranks among the world's top 20 centers of intellectual property application for patents. In 2003, the intellectual property authorities of Hong Kong and Guangdong set up an expert group to strengthen cooperation, and held a number of forums and exhibitions.
Another new goal for Hong Kong mentioned in the 14th National Five-Year Plan is to enhance the city's status as an international aviation hub. Despite the impact of COVID-19, Hong Kong International Airport has shown enduring strength, ranked by Airports Council International as the world's busiest cargo airport last year. It shipped 5 million metric tons of cargo, an increase of 12.5% ​​over the previous year. To increase capacity, a third runway is expected to open this year.
Hong Kong is also teaming up with other cities in Guangdong to play its part in the world's largest airport cluster. It is setting up a high-end aviation industrial zone in Zhuhai and a logistics park in Dongguan in response to the growing demand for cross-border logistics services.
Youth participation
The younger generation is an integral part of integrating Hong Kong into national development. The Hong Kong SAR government launched the Greater Bay Area Youth Employment Scheme in January last year to help young people develop careers in the GBA.
Eligible candidates will receive a monthly allowance of HK$10,000 for up to 18 months from the Hong Kong SAR government, and the Guangdong authorities will also pay monthly allowances for transportation and accommodation.
Hong Kong graduates had submitted more than 20,000 applications by February, with 400 companies offering 3,500 positions.
Fung Nga, one of the beneficiaries of the program, got a job at WeChat Pay and said the program was a pragmatic approach to encourage more young Hong Kongers to learn about GBA.
"After working and living here, I found it was not much different from living in Hong Kong in terms of food, language and culture, and I gradually realized that integrating into the region was one of the best choices I've made," she said. said.
John Poon, who found a job with internet giant Tencent through the scheme, said the experience gave him a deep understanding of office culture in mainland cities and made friends.
Cai Zhihua, director of Tencent's campus recruitment program, said the company recruited 63 young Hong Kongers through the youth employment program. The experience helps improve their competitiveness in the technology sector, and they also contribute to the development of the GBA and the nation, Cai said.