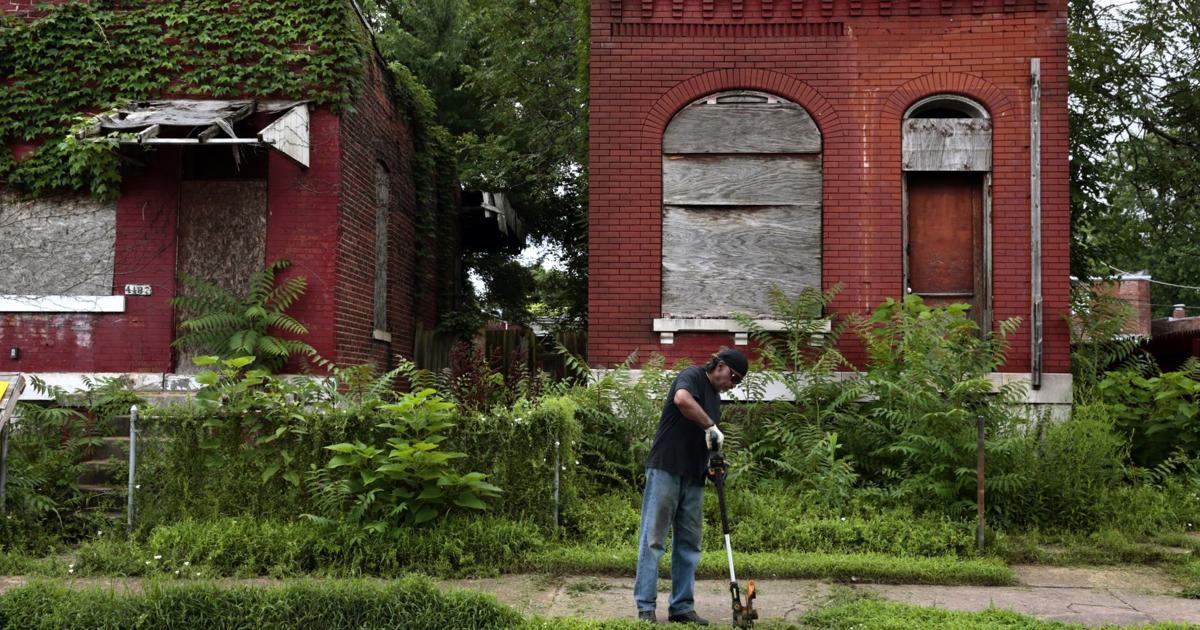 group selected to administer $15 million housing fund in St. Louis | Politics
ST. LOUIS — The city's office of economic development tapped a group on Friday to administer a new $15 million housing fund to spur new construction and homeownership in North St. Louis and in other neighborhoods that have long struggled to attract new investment.
A committee of the St. Louis Development Corp. voted to begin contract negotiations with a joint venture called Beyond the Bridge. If finalized, the entity would be the lead developer of a revolving fund with $10 million in American Rescue Plan Act funds and $5 million from federal new market tax credits for finance housing construction and mortgages in low-income areas of the city.
"For this city to thrive, to achieve equitable economic growth, it will take our local leaders … no longer being passive but active partners with developers and community organizations to rebuild our historically underserved neighborhoods," said Neal, director of the SLDC. Richardson said after announcing the selection on Friday.
The Beyond the Bridge joint venture includes Development of the central parka community development corporation that has always worked in the Forest Park Southeast and Central West End neighborhoods, but has branched out in recent years to support neighborhoods such as Fountain Park and Academy north of Delmar Boulevard.
Part of the adventure is also IFFthe largest nonprofit community development finance institution in the Midwest, with offices in St. Louis, Chicago and Kansas City.
Smith NMTC Associates LLCa local consultant who administers and structures the complex financial transactions required to use the tax credits in the new markets, is the third entity involved in the joint venture.
The group beat out proposals from Rise Community Development and Urban Strategies, local community development nonprofits.
SLDC's plan to use a portion of its regular federal New Market tax credit allocation to fund owner-occupied housing is a new approach for the organization. This is where Smith NMTC comes in. The company, which works closely with US Bank in new markets, has refined a model for financing affordable homes for sale. He has worked with Habitat for Humanity to build about 5,000 homes over the past 13 years, including about 150 in the St. Louis area.
Howard Smith, director of the company, said it takes time for organizations to get comfortable with using federal funds for owner-occupied housing development.
"People always say I didn't know you could use this for housing," he said in an interview. "It's a process to put everyone at ease because no one wants to risk losing their (New Markets) allocation."
SLDC's New Markets Tax Credits Manager, Bill Seddon, said he was excited about the new approach.
"It's a stretch for us on the new markets side, but I think it's a great opportunity," Seddon said. "I'm excited to be working with the folks at Smith, and I think it will have a big impact going forward."
Once a contract has been made with the joint venture, these groups and the city will work to find under-developers and locations for housing, with the goal of rehabilitating and filling entire blocks rather than spreading l effort over too large an area. The mortgage component, officials hope, will help spark a housing market in neighborhoods that banks are avoiding, sometimes citing a lack of comparable sales needed to take out loans.
Richardson also said the program will recruit minority and women-owned under-developers and entrepreneurs with the aim of building the capacity of minority-owned businesses in the city.
SLDC documents said the first round could fund some 200 homes, but officials hope the fund can become self-sustaining and continue building and funding homes for years to come.
ARPA's $10 million in federal money comes from $20 million that the St. Louis Board of Aldermen has allocated for housing development. When the appropriation was debated over the summer, Mayor Tishaura O. Jones questioned whether Council of Aldermen Chairman Lewis Reed's proposed allocation would violate federal rules, leading to weeks of political clashes.
(The Treasury Department has since clarified that ARPA municipal funds can be used to address vacant properties and develop affordable housing in low-income areas.)
Despite the summer's political clashes, the Jones administration and Reed's office now appear on the same page. Maurice Falls, a member of the selection committee and chief operating officer of Reed, praised Richardson – Jones' choice to lead SLDC – for the process of finding a housing fund operator.
"This is a historic opportunity for the City of St. Louis to move forward, especially with minorities and their ability to engage and rebuild their city," Falls said.