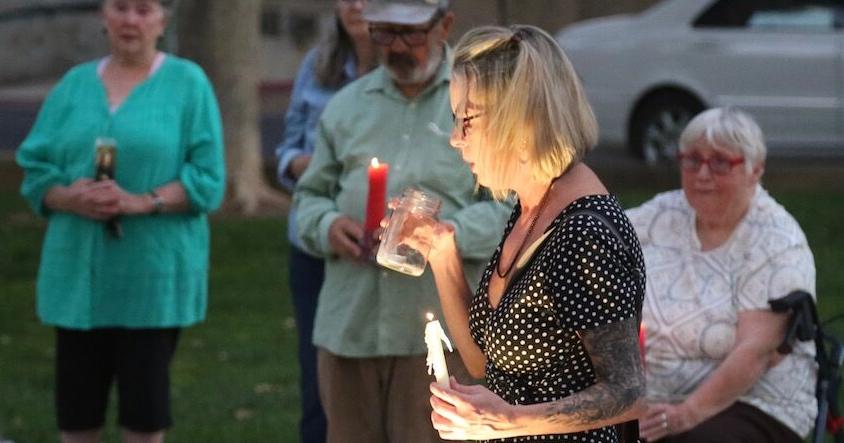 Group gathers in Courthouse Square to mourn lives lost in Texas school shooting | New
About two dozen people brought candles, tears and song to a candlelight vigil at Courthouse Square in downtown Sonora Wednesday night for 19 students and two teachers who were shot dead Tuesday in a school shooting. Robb Elementary School in Uvalde, Texas.
"Their lives were taken in seconds," Mary Anne Schmidt, who helped organize the vigil, told the rally. "Their teachers couldn't block bullets."
Thad Waterbury, 79, of Sonora, helped others light their candles. Kristi Traub, 46, of Columbia, and Margie Miller, 52, of Sonora, were among those who blew out candles for each victim when their names were read aloud.
The 18-year-old shooter purchased weapons and ammunition – including two AR-15 type assault rifles – last week, Texas authorities said. The Texas massacre was just the latest mass shooting in the United States
Some legal gun sales are regulated and other gun sales are unregulated, Schmidt said Wednesday night in Sonora. Senators elected in the nation's capital are to blame for the lack of movement on meaningful gun control legislation that could reduce mass shootings, Schmidt said.
"They need to be removed from office," Schmidt said. "No more condolences. No more moments of silence. You won't get my vote until you can make our communities safe from guns and gun owners.
Tuolumne County issued 2,692 firearms permits over the past 10 years, Schmidt said. There has not been a mass shooting at a school or anywhere else in the county in the past decade, or in living memory. Schmidt still wondered if guns made the county safer, and she urged gun owners to examine their reasons for owning guns.
"We need a ban on assault weapons and large capacity magazines," Schmidt said. "They are weapons of war, made strictly to kill people."
Julie Orth, 49, from Sonora, sang a Celtic song, Deep Peace, during the vigil. Together, the gathering sang "We Shall Overcome," which rose from gospel to become a protest anthem of the American civil rights movement in the 1960s.
Lauren Hurley, 55, of Jamestown, burned cedar for healing and purification at one time, to attract good spirits and remove negative energies.
Dena Armario-Lyons, 39, from Sonora, came with her husband, Petar Silovic, 52, and she was wearing a red T-shirt with the words "Moms demand action for Gun Sense in America." Armario-Lyons and Schmidt urged people to contact Moms Demand Action, a grassroots organization that boasts chapters in all 50 states.
The candlelight vigil was held from around 8:00 p.m. to 9:00 p.m. Wednesday. Around 8:30 p.m., a motorist driving north on Washington Street shouted, "Jesus hates you! Wednesday's vigil was the second protest against mass shootings in Sonora this week. About 40 people gathered on Sunday to protest white supremacist shootings across the United States in recent years and to commemorate the victims of one of the most recent incidents, in Buffalo, New York, on May 14.
Contact Guy McCarthy at [email protected] or (209) 770-0405. Follow him on Twitter at @GuyMcCarthy.