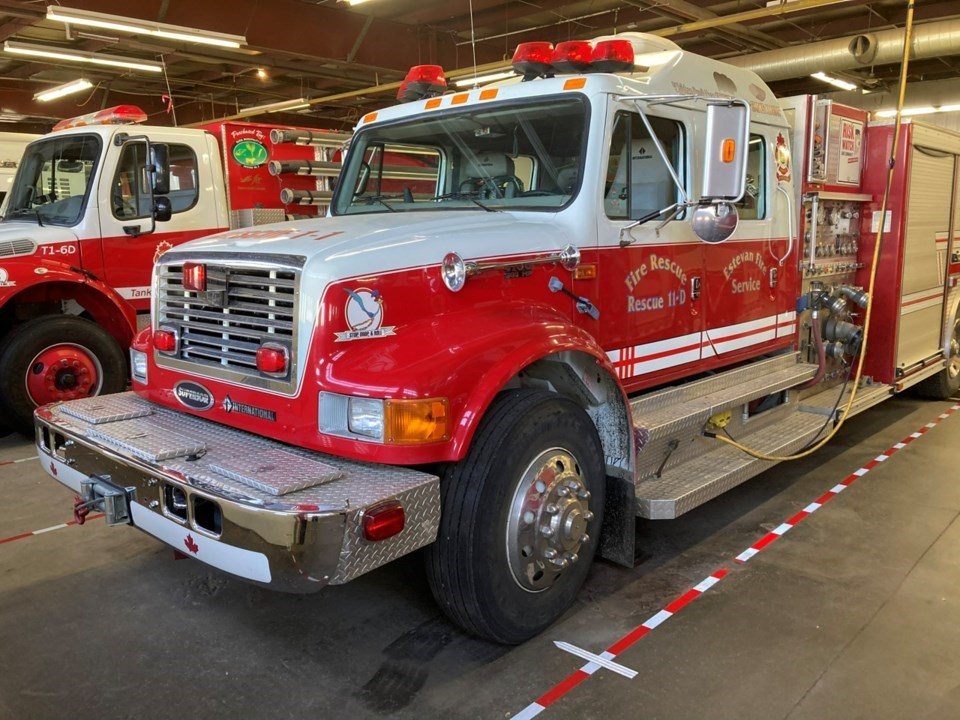 Firefighters called to report structure fire in central Estevan
Latest news from the Estevan Fire Department.
ESTEVAN – Estevan fire crews responded to a structural fire report in downtown Estevan and an alarm from the Shand Greenhouse this week.
The first call for service of the week came on June 27 around 2:30 p.m. Firefighters rushed to a reported structural fire at a multi-apartment building in the center of town. Residents safely evacuated the four-story building.
Although there was no flame anywhere, light smoke was billowing from one of the first-floor apartments. The firefighters made an entrance.
"Average smoke was found inside the building. Again, no flame was found. However, we did find a pan that was on the stove with cooking remains. Crews were able to extinguish the stove quickly and safely and remove the contents to an unaffected area of ​​the stove to cool. There was no need for water to put out this particular fire," the fire chief said. 'Estevan, Dale Feser.
Firefighters ventilated the building. The occupants of the apartment were not there.
"That was really the case with unattended cooking. And unattended cooking and cooking-related fires are a leading cause of fire deaths in Canada," Feser said.
He reminded the public to always be present when they start cooking and to watch the items on the stove or oven throughout the process.
The building's fire alarm system was not activated. And Feser praised the residents for their quick thinking and acting.
"Everyone did a great job of making a quick call to 911 as they heard a local smoke alarm going off in the [apartment]. The building's fire alarm system was not active at the time," Feser said. "But when in doubt, always make sure you call 911."
He noted that if there is a fire alarm system in place but it has not activated itself in an emergency, residents can activate it at the call station.
On June 28 at around 1 p.m., fire crews responded to a fire alarm that went off at the Shand Greenhouse southeast of Estevan.
"When crews arrived at the scene, it was discovered that there was a contractor company working on the heating and air conditioning system and blowing out the vents. monitoring and when they blew the vents, a bunch of the dust became airborne and mimicked smoke and triggered the sensors of the fire alarm systems," Feser explained.
No emergency was occurring. The crews were removed from duty after instructing on-site personnel to call the monitoring agency before proceeding with any work.
The same day around 3 p.m., the firefighters went to the Sacré-Coeur/Sacre-Coeur school for a spraying.
"Everyone had a great time up there," Feser said. "It was great to hear all the kids laughing and having a great time and enjoying a bit of heat suppression with a spray from the fire crews."