CounterCraft Partners with Hexagon US Federal to Deliver Comprehensive Cybersecurity Strategy to Federal OT/ICS Organizations
---
Enter Wall Street with StreetInsider Premium. Claim your one week free trial here.
---
WASHINGTON, March 30, 2022 (GLOBE NEWSWIRE) — CounterCraft, the global leader in active defense technology and next-generation threat intelligence, announces a collaboration with Hexagon US Federal, a leader in providing technology and Industry 4.0 services to the US Federal Government, including defense, intelligence and civilian organizations. Hexagon US Federal's portfolio includes PAS OT Integrity™, an industry-leading OT/ICS cybersecurity platform.
Hexagon US Federal partners with CounterCraft to expand its cybersecurity offerings with CounterCraft's unique deception technology, which enables organizations to:
Improve threat detection and response
Collect precise indicators of compromise and techniques, tactics and procedures
Generate machine-readable threat intelligence
Actively engage attackers
Provide a complete OT cybersecurity solution for asset visualization, vulnerability/patch management, configuration management, and business resiliency/recovery
This go-to-market partnership allows Hexagon US Federal and CounterCraft to bring their award-winning and innovative cyber platforms to customers looking for a complete cybersecurity offering. CounterCraft's platform uses sophisticated deception environments to detect and alert to unauthorized adversarial activity. By combining Hexagon US Federal's deception technology and OT/ICS technology portfolio, enterprises can dramatically improve their overall cyber performance and OT resilience.
"Organizations with an operational technology footprint face two significant challenges: the digital transformation of OT devices to improve connectivity and operability, and an ever-changing threat landscape that specifically targets OT and industrial control systems," comments Amyn Gilani, Chief Growth Officer of CounterCraft. "Working with Hexagon US Federal, we have a comprehensive solution to modernize OT systems and protect them with additional layers of security to deflect threat actors and actively collect threat intelligence on adversary behavior. I'm pleased to partner with Hexagon US Federal to provide the market with a more comprehensive OT security solution with leading know-how and innovative technology."
CounterCraft's platform includes specific enhancements to their deception technology to deal with hard-to-protect OT environments. This makes the platform particularly well-prepared for defense and national security customers, thanks to its ability to work on isolated systems and unique technological features that make it virtually impossible to detect.
"We are truly excited about what this new partnership means for our US federal government customers," commented Tammer Olibah, CEO and President, Hexagon US Federal. "By combining CounterCraft's cyber threat intelligence technologies with Hexagon's cyber protection solutions for operational technology, we are able to offer our customers a more comprehensive range of capabilities that enable them to improve their cyber resilience and to fight cyber threats more effectively.
Hexagon's PAS OT Integrity Platform, offered through Hexagon US Federal, strengthens industrial control systems against security and reliability threats by automating process control network (PCN) asset management, the foundation of configuration and policy enforcement, vulnerability and patch management, change management, reporting, and enterprise resiliency through robust backup and restore capability. Cyber ​​Integrity provides these capabilities for major control systems including OT/ICS/SCADA and IT assets. Cyber ​​Integrity is the only solution on the market that provides deep visibility down to level 0 of the Purdue model.
Related Images
Picture 1
This content was posted through the press release distribution service on Newswire.com.
Featured image for CounterCraft


Featured image for CounterCraft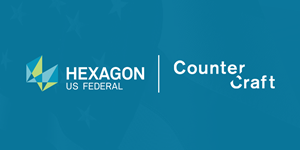 Featured image for CounterCraft
Source: CounterCraft