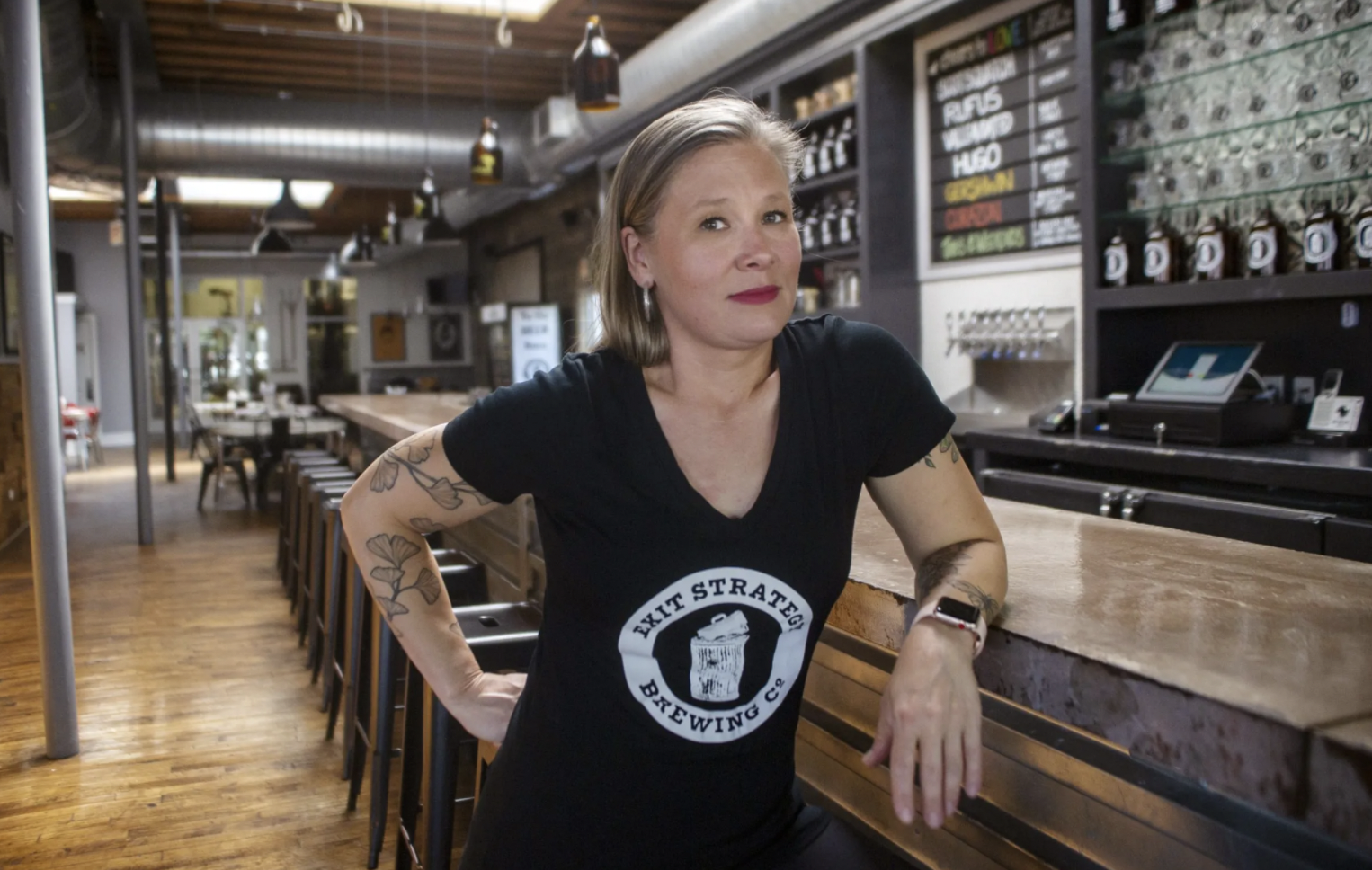 7 years, no itch to leave for the exit strategy
"Chris picked it up quickly," Katherine recalls. "The first batch won a homebrew competition in the fruit beer category." Her brew Perséphone also won an award. He continued to enter contests across the country and received positive responses from judges. Meanwhile, the Valleaus were content to serve their house beer to neighbors at The Grove. Then they visited the Greenbush Brewery in Sawyer, Michigan, and realized, "We can do this."
They bought a book called How to Start a Brewery and spent two years writing a business plan. They found a place within walking distance of their house. Classic Electric had gone out of business and the building had been vacant for 10 years. It had a mold problem and needed asbestos removal. "The skylights were hanging," Katherine recalls. It took them six months to renovate the 10,000 square foot building.
They named it Exit Strategy and a graphic designer created the memorable logo, representing a briefcase in a wastebasket. The brewery had a 4,000 square foot taproom, kitchen, and full basement. There was also parking.
"The first two years were tough," Katherine recalls, "but the third year it got better." As the company grew, the menu expanded and the staff increased. The brewery developed a dozen 'pillars' with names like 'Posthumulus' 'Scotsquatch' and 'Valleaudated', while Chris continued to brew new beers. They also launched a "Mug Club", offering benefits and discounts to members.
Five years is considered a benchmark for a brewery and they were only a month away from celebrating that anniversary when the pandemic hit. They had just hired Jessica Philips as general manager and she was overseeing over 20 staff members. Then, on March 15, 2020, Governor Pritzker announced a statewide lockdown to contain the spread of COVID-19.
Your support is welcome!
We accept donations so we can continue to bring you quality reporting on the issues that matter most to you and your community!
Make a donation
The couple were devastated when they had to lock the doors. "I was emotionally destroyed," Katherine recalls, "but we never considered closing." The brewery remained closed for two weeks. During this break, they cleaned the place thoroughly and gathered a supply of gloves and masks. They were sad when they had to lay off staff but gave them parting gifts. "We had a 'grocery day' and they brought home boxes of food," Katherine recalls, as they cleared the brewery of all food items.
When they were allowed to reopen for take-out sales, Exit Strategy opened one day a week, selling growlers. "We didn't make cans back then," Chris said, and they only sold brand new growlers, not refills. They later started selling canned beer and also sold merchandise, like "Survival Strategy" t-shirts. In July 2020, outdoor dining was permitted.
"The parking lot was full of potholes," Katherine said, and there were no seats. The village allowed them to borrow tables from the Altenheim picnic area and they attached umbrellas to them. They kept this "patio" open until October.
At their low point, the staff was down to five, including the owners and the general manager. But they've made enough profit from outdoor dining and take-out orders to start rehiring staff. In April 2021, they are repaving the parking lot and adding new tables, as well as lighting and a sound system.
Throughout the pandemic, "transparency and safety were paramount," Katherine said, "we put people before profit." When indoor dining finally returned, they demanded proof of vaccination, before it was imposed by the state. "We got some criticism from 'keyboard warriors,'" Chris recalled.
"There is still some uncertainty about the virus," Katherine admitted, "But we have great staff, great food and great community support." They are back to full staff and recently hosted the wedding of Philips and her fiancé, Erin. "We're in a really good position," Katherine said, "Our beer program is growing. It's the best it's ever been.
"We are a brewery," she pointed out, "We are not a restaurant."
Let's toast to that!